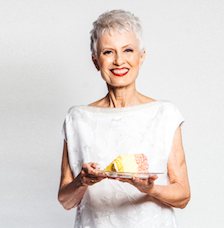 "Custom design, attention to detail, handmade quality, and unique detailing of each garment set these creations apart from mass-produced clothing. Each dress and gown is luxurious in design, drape, and fabrication; clothes that complement the wearer and become timeless investments to be worn again. I give individual attention to each patron, a distinctive quality that only custom fit can achieve. Designed and made by me in the LoDo district of Denver, Colorado." —Brooks
(Mom serving cake, her job is never done!)
Do you have a wedding coming up in the next couple months that you need a mother of the bride dress for? You've come to the right place. We've been designing and creating wedding dresses for years but we specialize in mother of the bride dresses and create them right in our studio in Denver.
Above you can see some selections of tea length mother of the bride dresses that we've created. You won't find theses dresses in specialty boutiques, they won't be personalized like what we create.
You might find it interesting to read our page Dressmaking from Concept to Reality. It outlines our entire process beginning with an in-person discussion about your vision and about the event.
We would love to help you with your mother of the bride dress. We're sure you'll find the process interesting and will be pleased with the results.