The process of designing a custom gown requires a basic understanding of your personality and body type. It also requires trusting and collaborative interaction. Brooks strives to understand your clothing needs and your lifestyle so she can create the perfect-fitting gown for you. Great relationships happen when there is a sense of creativity, fun, and a challenge. This is what Brooks strives for with every design.
Dressmaking, the creation of a dress in simple steps:
The steps are easy, here they are broken down so you can understand the process:
Make an appointment for a consultation, call 303 573 3801 or email me.
Meet to discuss the event, the ensemble ideas and your personal needs for the occasion. Try on samples of finished pieces at the atelier.
Based on our discussions I will sketch ideas for your event. You come back to finalize the ideas and fabrics and I take measurements.
Ensemble will be created for the next fitting, depending on the design it will be in the fashion fabric or a prototype fabric.
Fitting and final adjustments, delivery at this time.
More descriptions are as follows:
Initial Consultation
In your initial consultation with Brooks, she will discuss the wants and needs of your special occasion: type of gown, fabrication, body concerns, venue, color requirements, and timeline. You will be able to try on several completed sample garments to get a feeling for the quality and overall fit of a finished piece. Brooks will also discuss current fashion trends.
Sketch Review of dressmaking, the creation of a dress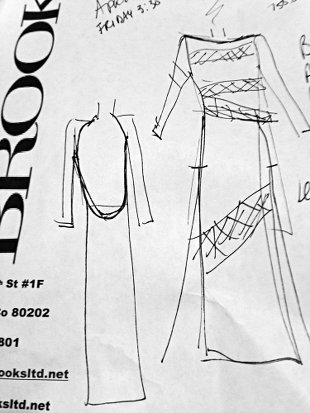 For Brooks, inspiration usually comes from the fabric. She will combine her inspiration with the ideas from your initial consultation to create several design sketches.
Afterwards, you and Brooks will review the sketches together and choose the sketch idea you like best.
It's quite common that parts from different sketches are combined to create one final design, one that's appropriate for your body type, that fits your special occasion, and uses the right fabric.
Your fashion fabric is selected, and measurements are then taken for the next step, your first fitting.
First Fitting
After the final design has been selected, Brooks will create the "muslin", a prototype piece that resembles the final garment. A muslin fabric is normally used, but if the final garment is a knit, then a knit would be used instead of muslin.
Some designs involve draping the fabric in graceful folds; this will also be prepared in the prototype fabric for review. At your first fitting, adjustments will be made and agreed upon before the fashion fabric is cut.
Second Fitting
At your second fitting, you will be wearing the fashion fabric, so you will be able to see and feel the final design. Any needed adjustments will be marked. Brooks will next make the adjustments, ready for your final fitting.
Final Fitting
At your final fitting, your garment will be pressed and ready for delivery. You will try it on and if any minor adjustments are needed, those will be executed on site, because Brooks has her workroom inside her atelier. A few photos of the final garment will be made, and then you will receive final delivery of your Brooks original.
Contact us HERE to get started.